Insights repository
Understand what users really need
Use the Insights board to consolidate product ideas, requests, research, and feedback streaming in from a number of sources. Spot trends and identify patterns that will help you prioritize what to build next and build it in the right way.
User insights
See who needs what... and why
Highlight interesting insights in user research & feedback and link them to related feature ideas. For each feature, see everyone who has ever requested it and exactly what they said.
Flexible product hierarchy
Keep your feature backlog manageable
Outline feature ideas according to the user needs they address, or switch to a flat list view to sort them by priority. Maintain peace of mind with a manageable product backlog.
Strategic drivers
Prioritize features using strategic criteria
Define the strategic criteria you'll use to make prioritization decisions. Visualize how features support key product & company objectives and watch the most promising features rise to the top.
Prioritization scores
Surface features with the most strategic importance
Calculate a custom weighted score for each feature based on how well it aligns with strategic drivers. Sort and filter features to surface the most promising ideas.
Product objectives
Define objectives aligned with your product strategy
The most effective product teams set clear objectives to ensure their work advances specific outcomes. Use objectives to prioritize features that align with your strategy. Then group your roadmap by objective to communicate the rationale behind every feature you're working on.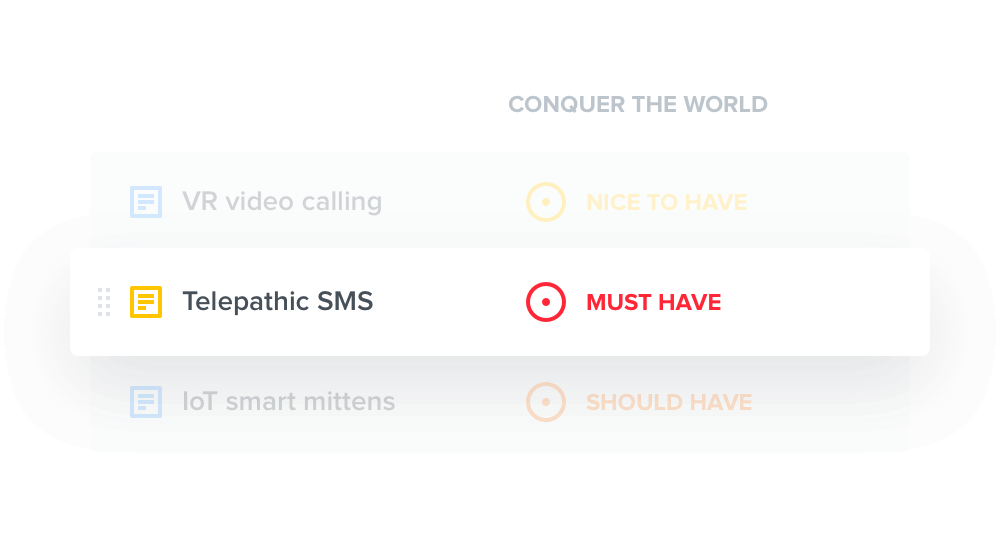 Prioritization matrix
Ground prioritization in reality
Visualize the value/effort tradeoff of each feature idea on the interactive Prioritization matrix. Drag and drop features to adjust their position. Then decide on a final priority (must-have, should-have, or nice-to-have) and add them to an upcoming release.
User impact score
Identify top-requested features
Auto-generate a score for each feature that indicates how well it meets the needs of your users, based on the user insights you've categorized on the Insights board. Zero in on features users have requested lately.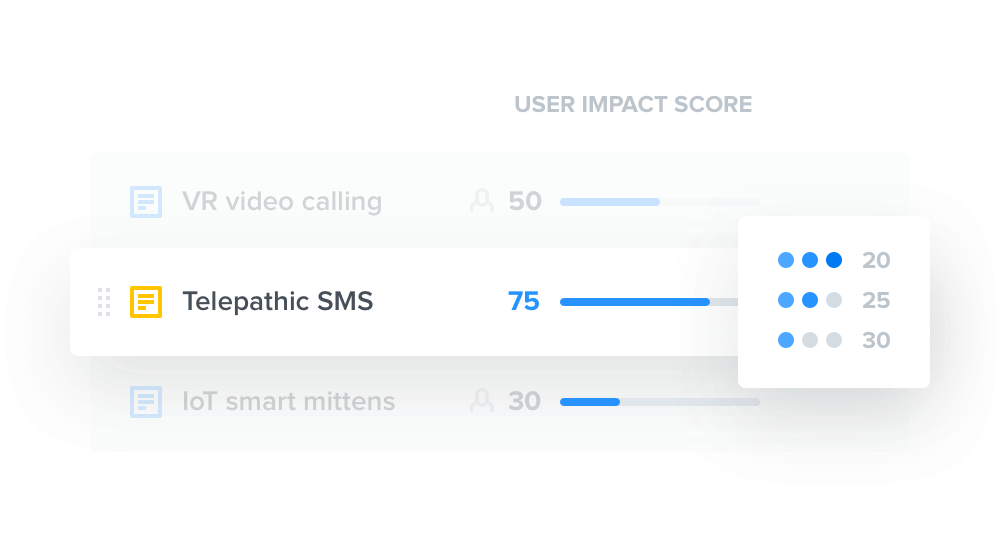 Feature voting portal
Validate your ideas (and source new ones)
Publish a selection of your ideas to your public Portal to collect upvotes and user feedback. Source new ideas and uncover user insights you might have missed.
Task management
Track key deliverables and milestones
Track the status of tasks that are common to many features, like designs, mock-ups, marketing collateral, or documentation. Ensure nothing falls through the cracks as your launch date approaches.
User segmentation
Know who you're building features for and why
Trying to please everyone means pleasing no one. Keep track of which features meet the needs of which market segments (like SMB vs. enterprise) or user segment, roles, or personas (like business user vs. technical user).
Competitive analysis
Dominate the marketplace
Score features based on how well they will help you compete with other players in your space. Filter by competitor to prioritize features most likely to attract and retain users who are at-risk of adopting another solution.
Effort estimates
Target high-value, low effort features
Ground your ideas in reality by tracking the complexity involved in bringing them to life. Incorporate effort into each feature's Prioritization score.
Release planning
Decide what to release when
As you prioritize what to build next, add them to an upcoming release. Then fine-tune your release plans on your Features board, or directly on the Roadmap.
Status monitoring
Know the status of every feature idea
Track feature progress from ideation through delivery in a special view for teams that practice Kanban, continuous delivery, or dual-track Agile. Customize the stages each feature moves through to match your team's workflow.
Team roadmap
Earn buy-in for your plans
Share your roadmap with colleagues and invite them to see criteria that went into your prioritization decisions – even the original user feedback that inspired each feature in the first place. Export your roadmap to PDF to share it with others outside your organization.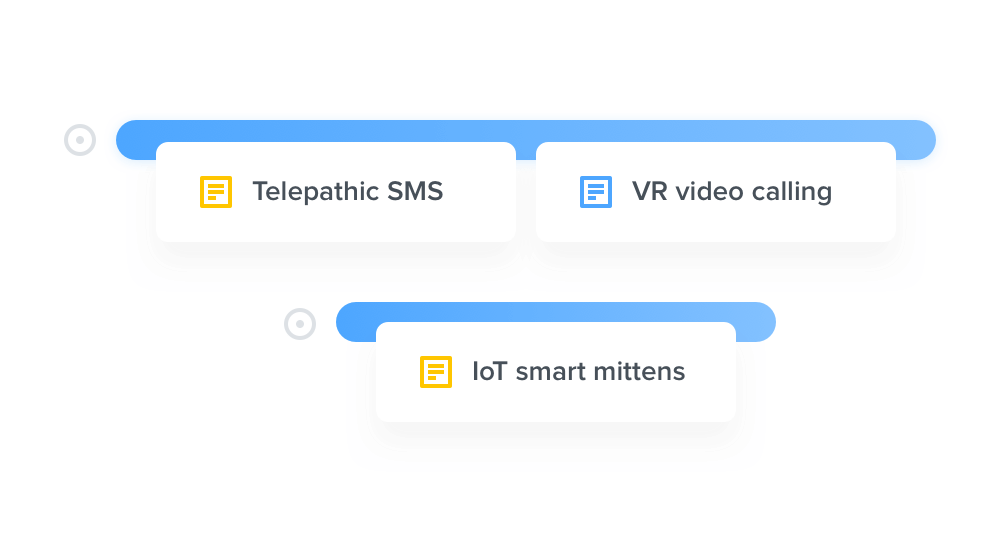 Public roadmap
Engage your user community
Share what you're working on now, next, and later on a public Portal to engage your customer community. Celebrate what's been launched to help users get the most out of your product.
Integrations
Preserve existing workflows
Consolidate feedback spanning sources like Slack, Intercom, Zendesk, email, and hundreds of other apps via Zapier. Use the productboard extension for Chrome to gather user insights from customer-facing colleagues across your organization. Preserve engineering workflows by integrating productboard with development planning tools like Jira, Trello, GitHub, and Pivotal Tracker.
Collaboration
Discuss feedback and ideas with your colleagues
@mention colleagues in a comment to start a discussion about a piece of user feedback or a feature idea. Share context with colleagues to earn their trust. Get alerts when important user feedback arrives or new features are created that relate to your product.
Customizable boards
See the right data at the right time
productboard contains a series of customizable boards that help you manage the information required for making decisions during each stage of the product management process: understanding user needs, capturing ideas, prioritizing features, planning what to build when, sharing the roadmap, and monitoring each feature's progress toward delivery. Use productboard's intuitive drag-n-drop interface to reconfigure your boards to match your team's needs.
Advanced sharing settings
Keep sensitive data and tentative plans private
Allow colleagues across the organization to submit user insights or see what's on the roadmap while ensuring everyone has access only to the product data that's ready to be shared. Limit access to certain prioritization criteria or release plans so only colleagues of a certain role or team can see it.
Support for entire product organizations
Manage many product teams in one centralized system
Product leaders can zoom out for the big-picture portfolio view of all products and the feature ideas you have for them. Standardize some prioritization criteria for all product managers, while associating others with specific products. Each product manager can focus on the data that matters most to their work.