Productboard has raised a $125M Series D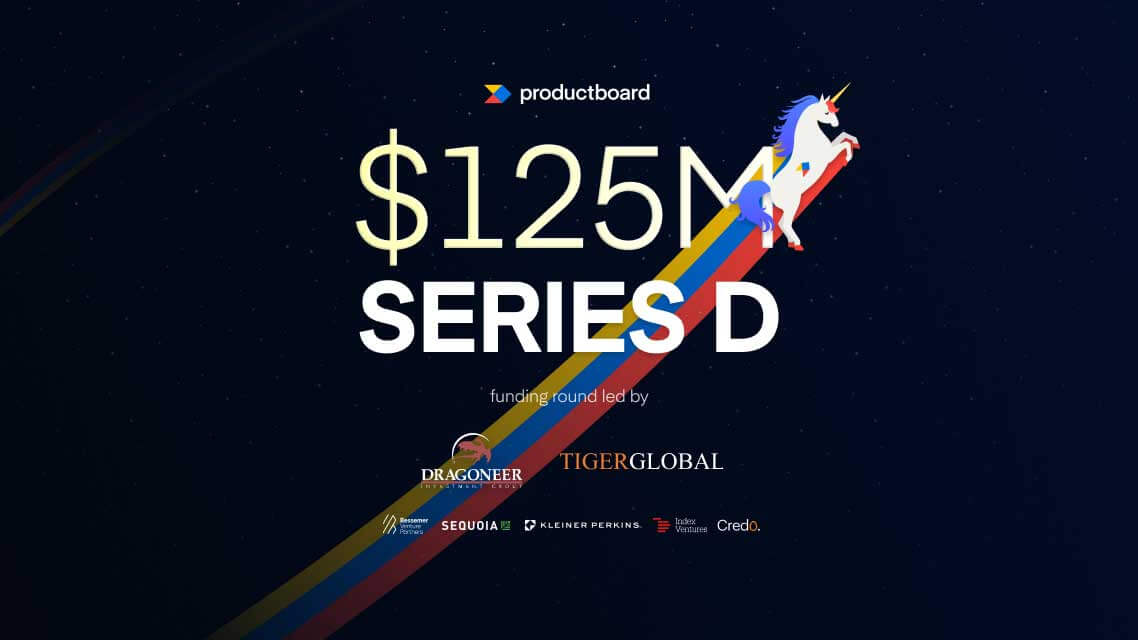 Today, Productboard announced a $125M Series D funding round led by Dragoneer Investment Group and Tiger Global, with participation from existing investors Bessemer Venture Partners, Sequoia Capital, Kleiner Perkins, Index Ventures, and Credo Ventures. This brings Productboard's total funding to $262 million, with a new valuation of $1.725B (the first time we've ever announced our valuation publicly!).
Why are top VCs betting big on Productboard's product management platform? Because its rapid adoption across mid-market and enterprise companies points toward a future where every organization will be able to rely on a dedicated product management platform to support their core product processes.
---
Great companies are built to solve problems. And the way companies solve problems and help customers is by creating excellent products. The product, and its service to the customer, should act as the connective tissue that holds companies together as they evolve and grow.
But as companies scale, there's a risk of losing sight of the customer and their needs, of becoming reactive and short-sighted, or prizing mere shipping efficiency over delivering the products and features that really matter to customers and to the business. This will come as no surprise to you if you work in product management, as it's the very reason our function exists. And it explains the increasing prominence of the role of the product manager and product leader in nearly every organization in recent years.
Product management is not project management. It's not limited to the management of finite projects, tasks, and milestones. It's a discipline that involves overseeing the entire lifecycle of a product, or portfolio of products. It involves a never-ending process or prioritization, based on a vast number of inputs from customers, the market, and the business. That calls for a completely different type of solution than we use for issue tracking or project management.
"69% of product teams say the products and features they release are not consistently well-received by customers."
"Aligning stakeholders around prioritization decisions is the #1 challenge reported by product managers & leaders."
Why every organization will soon adopt a product management platform
Organizations exist to sell, market, support, and implement the product. It's the product that is the basis for the value each company creates. So why would any product leader forgot the opportunity to give their product managers a massive edge with a purpose-built system for helping them build the right products and features?
How could any organization be satisfied with a system of cobbled-together spreadsheets, outdated PowerPoint roadmaps, or user feedback scattered across tens of different systems? With such an informal approach, just getting engineering, product, and design on the same page comes with an enormous cost in unnecessary meetings, redundant efforts, missed dependencies, and wasted cycles — not to mention all the expenditures on work that doesn't truly advance the overarching business strategy.
And with the great resignation, a rise in employee attrition risks brain drain, as valuable context leaves the organization, or is left untapped in old harddrives, spreadsheets, and inboxes. Without a centralized system of record for product management, product leaders risk business continuity and impede new hire onboarding.
Above all, what company prefers a black box approach to product management versus a shared vision for where the product is headed, held by employees across the organization? Product leaders have everything to gain from greater visibility into teams' progress and performance. And without an effective product roadmap, they miss a major opportunity to invest colleagues in their product vision.
No one is actually satisfied with the status quo. It's just that some haven't caught a glimpse of the alternative yet, and it's as vast as the difference between a salesperson's rolodex and the modern CRM.
The need for a centralized system for product management has only accelerated with the COVID-19 pandemic driving co-located teams apart into a distributed workforce that must keep aligned across multiple time zones and geographies. Productboard fills the void — bolstering cross-functional collaboration and trust, standardizing the product prioritization process, and aligning product teams on a shared strategy.
Above all, Productboard enables customer-centricity. It embodies a modern approach to product management that puts customers at the center, and provides a system for harnessing vast quantities of feedback streaming in through more channels than ever before. With Productboard, product teams finally have the data they need to identify users' most pressing needs and deliver the optimal solution.
The rise of Productboard's product management platform
Today over 5,500 companies have bought into our vision for the future of product management, and for how modern product-led companies will be operated. From leading startups like UiPath and Zoom to industry titans Vanguard and Volkswagen, companies of all sizes across all sectors have looked to Productboard in their effort to digitally transform and get the right products to market, faster. It helps them understand what their customers really need, prioritize the right features to build next, and align everyone around the roadmap.
"We have partnered with Productboard over the last several years to help accelerate our release cycles. The platform has enhanced our ability to launch products, while gathering the right feedback from our customers. With Productboard, we are able to focus on building the best products for our customers."
"Now more than ever, we in the automotive industry must have a maniacal focus on the needs of our customers and ensure that we bring new products to market quickly. Productboard has become an essential component of our product process here at Volkswagen Automotive Cloud, that makes it possible to better understand our customers, prioritize based on their needs and ultimately deliver. With Productboard, we have taken painful offline processes that slowed our pace of innovation and transitioned to a new operating model that creates trust, transparency and results across our entire group."
Where Productboard is headed next
With the latest funding, we will scale our product offerings for Productboard's broad base of customers while continuing our move upmarket to serve product leaders and more complex enterprise product organizations. Our latest round will also fuel hiring to support our rapid growth.
Finally, what started out as a platform to better serve product managers has turned into a movement of makers with a shared belief that the products we spend our lives building should be products that truly matter. We'll continue to build our community of passionate product makers and invest in a brand that amplifies the stories of all the makers striving everyday to pursue product excellence.
"Some of our portfolio companies started using Productboard, and the difference was night and day. The world is moving towards customer centricity, and we finally have a data-driven system of record to help product managers and stakeholders across the organization determine and manage product direction."
None of this would be possible without the support we've received from our community. We want to extend a sincere thank you to our customers, investors, partners, and employees for being there every step of the way.
Special thanks to Christian Jensen at Dragoneer Investment Group for leading this latest round, and to John Curtius at Tiger Global for doubling down in your support of our business.
Join our team of product dreamers and visionaries
As we continue on our journey, we'll be seeking more dreamers, visionaries, makers and doers to join our team. If you know anyone who would fit right in, or if you're looking for a new opportunity in San Francisco, Prague, Vancouver, Dublin, or your remote office, stop by our careers page to learn more. We'd love to hear from you!