Replace your spreadsheets
If you practice Kanban, you deliver continuously, and you need a way to track the flow of features through each phase of product delivery. With productboard you can do just that. Customize your Features board and Roadmap to display each phase in your team's workflow, from idea through delivery.
Capture user feedback
Are your feature requests and user research scattered across a handful of tools? Gather it all in one place so you can prioritize the right features and design them in the right way.
Confidently decide what to build next
No matter what your prioritization framework, productboard can help you capture feature ideas and prioritize them based on clear strategic criteria.
Rally everyone around your Roadmap
Share your Roadmap with colleagues from across the organization so everyone knows where the product is headed and appreciates the tough trade-offs that went into your prioritization decisions.
Keep using the tools you love
You need fewer tools, not more. productboard helps you consolidate user inputs and feature ideas scattered across many systems. Integrate with popular customer touchpoints like Intercom and Zendesk, and hundreds of others via Zapier. When you're ready, push prioritized features straight into popular dev planning tools like JIRA, Trello, GitHub, and Pivotal Tracker.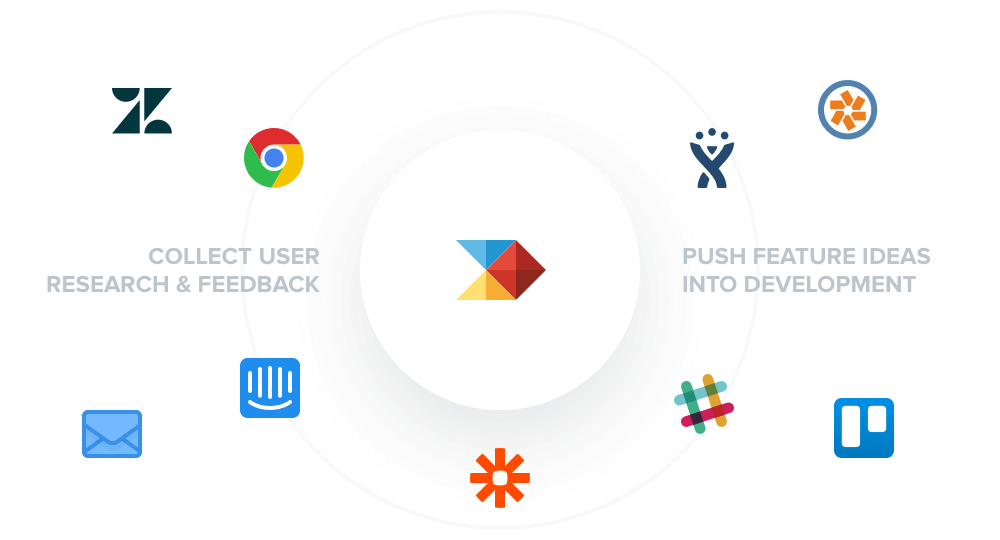 Product leaders

Love using productboard
productboard helps product managers figure out what to build next… and why.
TechCrunch
TC Disrupt Competition
Great product! Beats the heck out of our old system of spreadsheets, my inbox, and a Trello board.
Bradley Wagner
VP Engineering
hannonhill
productboard is a no-brainer for every serious product manager. You'll wonder how you got by without it.
Chase Lee
Co-founder & CTO
ambassador
productboard is a member of our team we can't live without.
Wells Riley
Product and Design
Envoy
After I showed the team how productboard could align product with sales, development, and marketing, everybody was just thinking "finally!"
Tim Clauwaert
CEO & Co-Founder
intuo
I haven't fallen in love with a product like this in a very long time!
Jewel Loree
Senior Product Manager
Headset
I've tried a few PM tools, and productboard is the only one that has managed to capture the essence of what product management is about, and do so in style.
Nicolay Alexiev
Product Operations Lead
Airtasker
We funnel all our company's user insights through productboard. It's changed my life.
Cam Hilsman
Senior Product Manager
SalesLoft
I don't often feel like I'm using "the next big thing" but that's how I feel about productboard.
Tyler Mills
Product Manager
Zaius
Every person on my team is in love with productboard... Thank you for this amazing tool! I don't know how I'd do my job without it now.
Kat Kennedy
Chief Experience Officer
Degreed
Previous
Next